KJ Sinkovich
Contemporary Jeweller
Kylie Sinkovich is a contemporary jeweller currently based in Tasman, New Zealand. She is a project-based artist and designer who also welcomes commissions.
Kylie's work has two main facets:
The first is a socially, politically and environmentally driven practice which is carefully considered, researched, designed and crafted. The forms, materials and construction methods are often dictated by the concept being investigated.
The second is an exploration into her favoured materials of wood, stone and metal. She investigates the process of composition as a model of wholeness, positioning a fine balance between dissonance and resonance. Working with a sensitivity to ecological themes, she attempts to simultaneously embrace what is singular and distinct, with the points of overlap and commonality between different substances. In this way Kylie allows space for the emergent qualities of the materials themselves, in what she identifies as a process of co-creation between human and non-human elements.
You can purchase a selection of her work from Fingers Gallery opposite Auckland Art Gallery.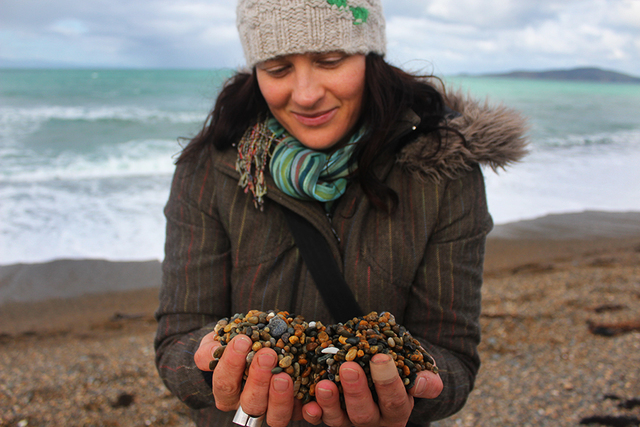 Gemstone Beach, Southland. Dunedin School of Art, Sustainability within the Visual Arts workshop. 2015